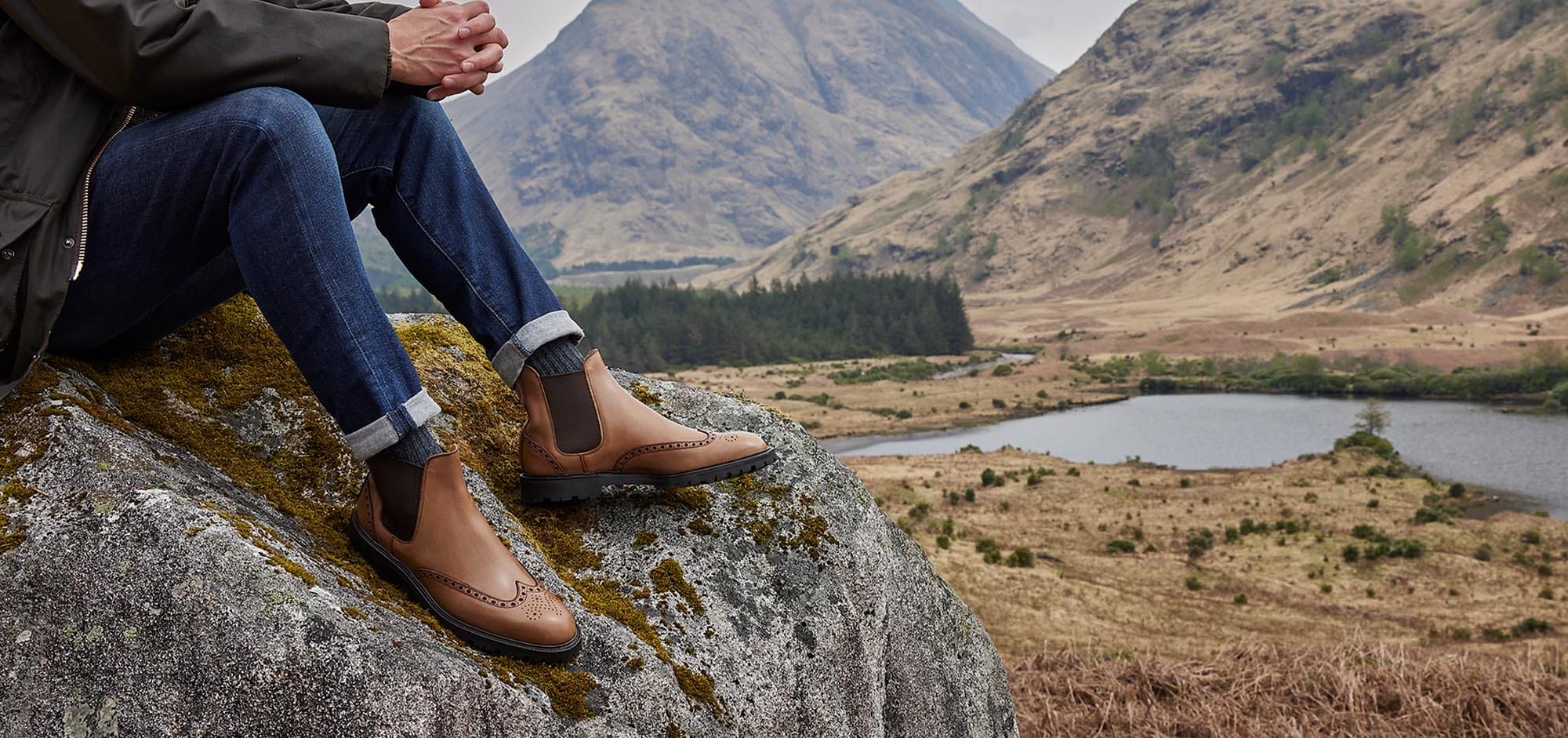 Makers of 'more than just' fine shoes, Crockett & Jones has applied decades of knowhow and manufacturing prowess. Bringing together new styles and new materials, we have further added to an already plentiful offering of English made winter-ready footwear.
With a long-standing alliance with Scotland, where Crockett & Jones once had a successful wholesale market during a time when our current Managing Director, Jonathan Jones, was rebuilding our footwear collections from the ground up. Scotland, indirectly, laid the foundations for many a best-seller still available today. So travelling north, we made our way over the boarders to the Trossachs National Park.
Surrounded by peace and tranquillity, with only the calming sounds of nature breaking silence. As we took in rolling Bens and glass like Lochs, it soon become apparent that the very essence of where we were, had paved the way for previous collections of similar ilk. Collections that our forefathers once regarded as 'practical footwear'. Functional, fit-for-purpose and more important than ever, sustainable, given that four decades on, we were back.
The great outdoors inspired much of our country footwear for many years. This AW23 brings together that dynasty with two more high performing leathers: Rough-Out Suede & Hurricane Hide. Having always specialised in the manufacture of high quality footwear, this marriage of craft and casual leathers has brought about a great opportunity, offering customers 'more than just' fine cap oxfords and penny loafers, although both are here to stay.
Rough-Out Suede
Rough-Out Suede is a wax impregnated suede with a tight fibre structure. It is extremely hard-wearing, that takes on a unique character through wear. A fully waterproof leather, it really is made to explore the outdoors.
Taking its name from a development meeting between Crockett & Jones and Ralph Lauren, as Crockett & Jones developed footwear collections for the house in the 1980's. The term stuck, and remains its reference today, sourced from the U.K., it wasn't until some 30 years later the material really began to gather pace and popularity. During wear, Rough-Out takes on a character that is unparalleled in appearance, roughing up with larger folds as it comfort levels increase. Similar to a selvedge denim to which it is the perfect match.
This season sees a new lighter colour option, Natural Rough-Out Suede, joining the very popular Dark Brown. Natural Rough-Out has a depth of colour to it that offers connotations of the 'Wild West'.
Hurricane Hide
Hurricane Hide is a 'pull-up' or 'oily pull-up' leather. Originating from Portuguese or Spanish bulls that give the leather a tight, compact fibre structure, increasing durability and longevity in wear. This leather is 2mm in substance with larger surface creases that is regarded as a heavyweight leather. Suitable for chunky Derbys and Boots waiting to take on the elements!
Dyed and tanned with oils, impregnating the entirety of the hide, a concoction that not only produce a highly water-resistant material, it also create its classic 'pull-up' characteristics. They can be manipulated around the leather, creating lighter and darker areas and thus bringing out its naturally casual appearance.
This season we have introduced two new colour options of Hurricane Hide: The first, a light coloured sand option, the second a dark coffee.