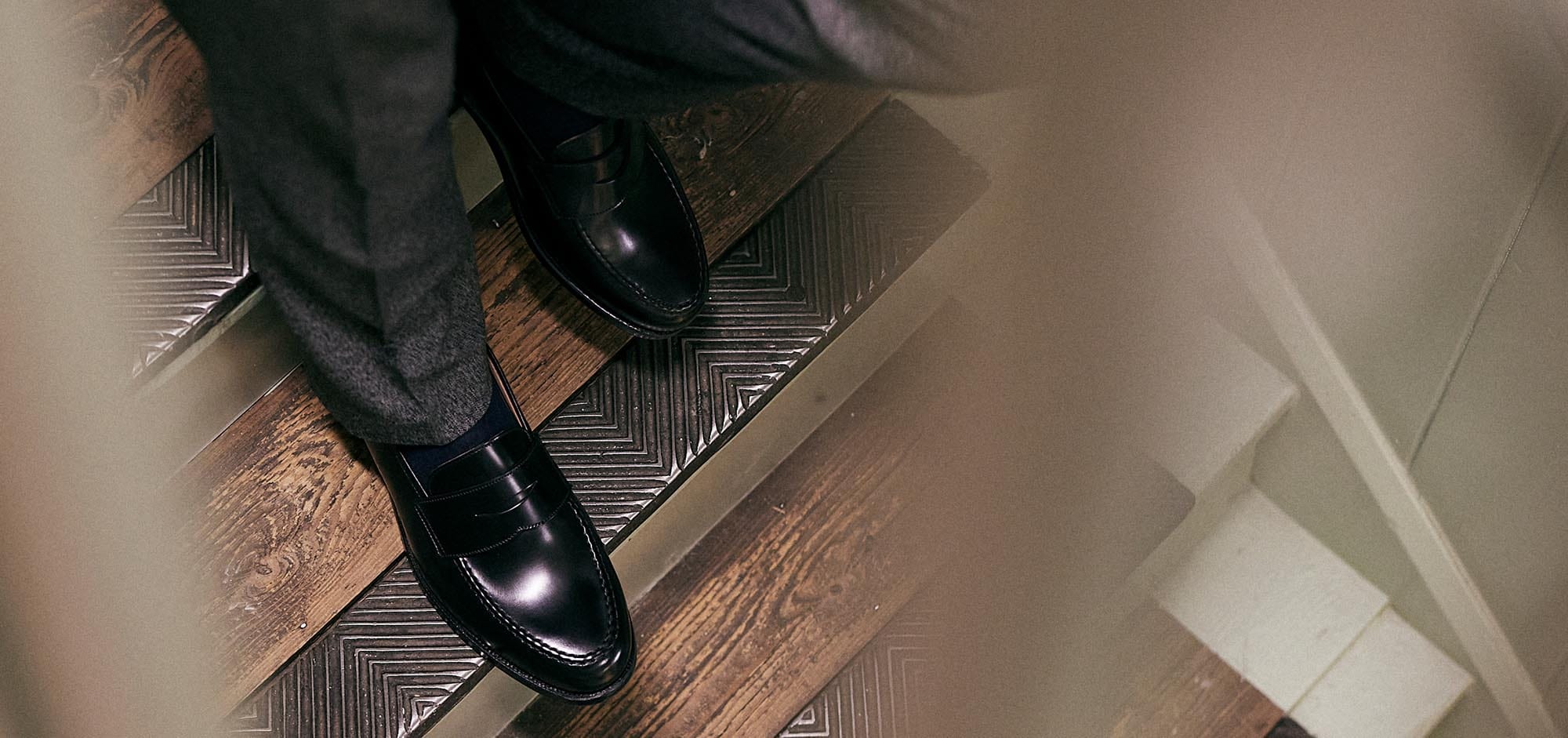 The base layer of this semi-corrected leather remains a high quality calf leather. Our tannery uses a calf skin base, as opposed to a thicker hide which most corrected leathers are. The different lies in the surface layer.
A popular leather used throughout the industry, Crockett & Jones has always utilised cavalry calf sparingly. Of the 227 SKUs on our website, just 7 are made using cavalry calf. Simply put, and we are sure many of you agree, nothing quite rivals our full grain calf and grain leathers.
We do understand its appeal, cavalry calf features a surface layer that give it a uniform finish, mitigating variation and inconsistency during the finishing process. For the most part, at Crockett & Jones, it is this variation in antiquing and burnishing that gives our shoes their character.
That being said, we do get it, and for choice styles cavalry calf really is a match made in shoe heaven! KSPs include its shiny or bright appearance, but also its total ease of care. Importantly, by choosing to use a top grade corrected 'calf' as opposed to hide, we can guarantee to still produce fine shoes from this type of leather.
Boston in Black or Burgundy Cavalry Calf are two of the most popular loafer in the collection today featuring in the collection, unchanged, for more than 20 years. So for all of those Boston customers out there, how does one care for cavalry calf?
Step 1, REMOVE THE DUST & DIRT
Brush your shoes to remove dirt and dust. (You should have a brush specifically for this job, do not use your horsehair polishing brush).
If brushing your shoes does not remove all of the dirt, you can use a damp cloth with a light detergent for any of the more persistent stains.
Wipe the shoes over with a towel or cloth to dry; DO NOT dry your shoes on a radiator or heater.
Step 2, BRING BACK THE SHINE
Once dry, spread a very small amount of shoe cream or wax polish evenly over the shoes with a cotton cloth or by dabbing an applicator brush in the product.
Leave to dry for a moment.
Brush the shoes all over with a back-and-forth motion, using a fine/soft horsehair brush. Brushing should have removed most of the polish and evened up the colouration of the shoes once again.
Step 3, FINAL BUFF
Using one of our shearling polishing mitts, buff the shoes all over, removing all of the tiny brush / bristle marks for a final shine.
A FEW ADDITIONAL TIPS...
Tip 1
USE SHOE TREES – Cavalry creases with slightly larger creases, by using wooden shoe trees it will help to maintain the shape of the shoes as they dry out and absorb moisture from inside your shoes.
Tip 2
USE A SHOE HORN – This under-appreciated item, prevents you damaging / breaking down the heels, counter and top line as you slip them on and off, day in day out.
Tip 3
WAX CRAYON – During the manufacturing process, we ink stain and wax set the sole edges to increase water resistance. As one can imagine, soles take the most abuse during wear, coming into contact with hard surfaces regularly. At home, you can use a hard wax crayon to apply a similar colour wax to the edges where any raw fibres from the leather welt or sole are visible or where the factory wax has been damaged through wear.