Official Film Synopsis
Based upon the acclaimed comic book and directed by Matthew Vaughn (Kick Ass, X-Men: First Class), Kingsman: The Secret Service tells a story of a super-secret spy organisation that recruits an unrefined, but promising street kid into the agency's ultra-competitive training program just as a global threat emerges from a twisted tech genius.
Release Date
Kingsman: The Secret Service will be on UK screens on 29th January 2015.
Official Website
www.kingsmanmovie.com.
Crockett & Jones are very proud to have been chosen to supply product for the much anticipated Kingsman: The Secret Service. To confirm, we have supplied our most recognised toe cap Derby boot, Coniston in Tan Scotch Grain. Coniston, a style that has been in our stock collection for over 25 years, is the perfect style to endure a bit of good old English 'rough and tumble' - It is fantastic to see that Coniston is as strong today as it was back then.
The Articles. Delve into the authentic world of Crockett & Jones.
Get the look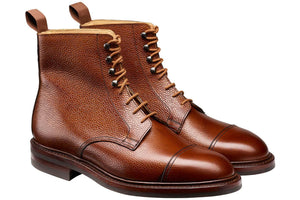 Tan Scotch Grain