Laughter should fill the room during the festive seasons. A time for family and friends, a time to switch off the office lights until next year… sounds good doesn't it! A time to slip off you Crockett & Jones shoes and slip on your Crockett & Jones slippers.
Christmas might just be 'that' time of year where even the most revered of shoemakers are permitted to let their guard down and show a touch of humour. From Crockett & Jones this December, we are spreading a little joy with our latest and greatest velvet slippers. For the gents, Santa and his trusty Reindeer of course, for our fairer and probably (definitely) more organised other halves, we present pair of intricately embroidered slipper aptly named Snowflakes. Both, merrily featured on our Albert slippers in navy velvet, made by hand, in England.
As a final sign off, might we even suggest that the quilted lining and smooth leather sole provide the perfect nimble footwear for a waltz around the kitchen island, just don't spill the wine or more importantly, the gravy!
Available in store and online throughout the month of December.
Get the look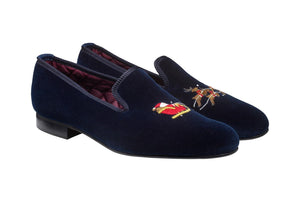 Navy Velvet
Navy Velvet