The party season is upon on us, and it's sure to come with a 'Black Tie' invitation or two. Dressing correctly in evening wear can be something of a minefield, so, with Christmas around the corner we thought we'd give you some pointers on evening-appropriate Crockett & Jones shoes that will suit any formal occasion.
So, without further ado, meet the Alex, a black calf's leather whole-cut Oxford shoe from our Main Line Collection. Alex's sweeping lines and elegant chiselled toe make it about as versatile as a 'formal' shoe can be; the kind of shoe that you can invest in to wear with business suits or separates to the office, that's just as comfortable worn out on the town or for smart evening events. Here, we've put a look together that demonstrates how seamlessly the Alex works paired with a dinner suit; these dress trousers are part of a matching Tuxedo, cut in black wool Barathea with the correct satin trim running down the outside seam on each leg. Paired with black silk socks from Corgi (silk socks are the traditional choice for evening wear), the Alex offers a clean, sophisticated silhouette. Incidentally, this shoe has also starred on the silver screen, worn by Daniel Craig's 007 in both Skyfall and Spectre – proof, if any more was needed – this is a shoe to look the part in.
If you'd like to push the boat out, patent leather dress shoes are the traditional choice of footwear to pair with a dinner suit – patent leather 'came in' for evening wear in the 1850s, and it has been around ever since. The Overton is our timeless rendering of a classic lace-up dress shoe, lasted with chic rounded toes in an understated plain Oxford style. Incidentally, patent evening shoes should always be designed without broguing, which is historically associated with country footwear. Moreover, the Overton is an innovation of our previous dress shoe model, which was finished with cemented soles. Now, this evening shoe is set a on newly designed slim Goodyear welted sole, which preserves the shoe's elegant looks while being completely repairable. Here, we've swapped out black silk socks for a dark crimson pair from Pantherella. In an otherwise black-and-white outfit, we think just a touch of dark colour in your socks is a lovely way to stand out from the crowd.
Speaking of standing out, this brings us to an unashamedly decadent option: the velvet Albert Slipper. It takes its name from Queen Victoria's husband, Prince Albert, who supposedly originated the style and set a trend for wearing comfortable quilted slippers in velvet, silk or suede at home. Traditionally, Albert Slippers are paired with matching velvet smoking jackets – a sartorialist's preferred choice for Black Tie.
We offer various velvet slipper designs in black, burgundy and navy, with options to design a variety of different monograms – black velvet slippers with the Prince of Wales's royal feathers are another favourite – but plain black are best suited to a classic dinner suit, but an element of festive fun can of course be had in a pair of fully personalised slippers via our special order service. Here, we've reprised the pairing of black Barathea evening trousers and crimson silk socks, but plain black silk, or even a deep plum colour would work just as well. It goes without saying that all our slippers are made in England and built to last – adhering to the same values as our shoe and boot collections.
Whether calf's leather, patent or luxurious velvet, wear Crockett & Jones this festive season, and you won't put a foot wrong.
Featured Products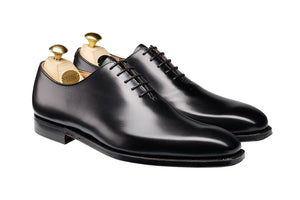 Black Calf
£540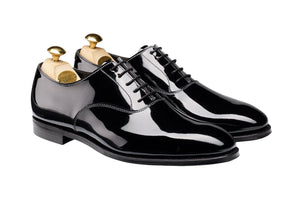 Black Patent
£460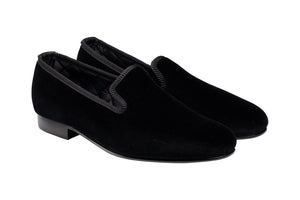 Black Velvet
£280