Last summer it was clear to see that style and comfort was at the very core of customer demand. Therefore, further development of the UNSTRUCTURED collection was an obvious decision for Spring Summer 2022!
Once again, all styles within the collection are benefitting from our SUPERFLEX leather sole, exclusive to Crockett & Jones, representing the most comfortable leather sole used in English-made footwear today. Leather is not a sole of the past and remains a core sole for a large percentage of our customers.
Fans of the UNSTRUCTURED collection will be captivated once again as we have continued on with two customer style favourites – Seaton in Earth Green Suede and Salcombe in Ocean Suede. We have also introduced a new style to the collection, Southport. Available in two colour ways, Dark Oak Suede and Khaki Suede, Southport is a new interlaced loafer on our expertly designed loafer last 375, benefitting from the toe shape of 325 (for our Cavendish lovers) with a tighter heel fitting.
Also for Spring Summer 22 is a new style horsebit loafer, Finchley 2, the first of its kind within the Men's Main Collection since the 1970s. This re-imagined version is available in two colourways – Dark Oak Suede and Black Pebble Grain, both also sporting our SUPERFLEX leather sole.
Get the look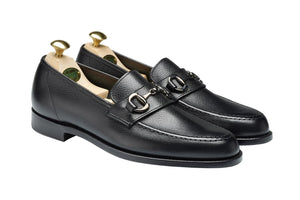 Black Pebble Grain
Dark Oak Suede
Another new style for this season is our unlined low leg Chelsea boot, Epsom. Epsom is one of our only few light-coloured Chelsea boots available within our Main Collection – perfect for those warmer days.
Finally, we introduce Cornell, a Derby shoe for our 'Ivy League' faithfuls. This five-eyelet Derby shoe, also known as plain front blucher, is available in three colourways – Earth Green, Ocean and Khaki Suede. With a contrasting Red Rubber Unit sole, this stand alone style adds some American inspiration to this year's Spring Summer Collection.