This year's holiday season is going to be a vast improvement on last year's, in that there will be one. It's unlikely, though, that many of us will be able to get away overseas. I for one don't mind that – the nostalgist in me loves the thought of spending a fortnight tramping over rolling Cotswold hills, or else sitting in striped deckchairs licking ice creams on old Victorian sea fronts.
Whatever a 'staycation' means to you, the prospect of a couple of weeks of escape to a different part of the country brings with it the equally enjoyable prospect of treating yourself to a new holiday wardrobe, or at the very least to a couple of new, summery pieces. As with all things style-related, your staycation wardrobe is best served by a few tried and tested classics, rather than with too much novelty. And be warned: gaudy printed shirts do not count as "classics".
Rather, the direction your staycation shopping takes will of course be dictated by the direction of the staycation itself – are you headed to the balmy south west or the seaside, or else north, towards rolling dales and highlands? If the sea is calling your name this holiday season, then it's time to stock up on pastel coloured linen camp-collar shirts and Breton stripe T-shirts. Navy and off-white stripes seldom fail to look chic, but baby pink and cream striped tees are a chic alternative with rolled-up indigo jeans. Throw a khaki linen overshirt or unstructured navy blazer on top for a put-together look.
If you're countryside-bound, long-sleeve linen or Oxford button-down shirts, and a couple of pairs of neat-looking, lightweight chinos will serve you well, as will some kind of lighter top-layer. I don't think you can really go wrong with a Barbour Bedale jacket, which is relatively lightweight (especially if you're on a walking holiday – as soon as you get up a big hill the temperature drops, anyway) and the perfect protection against freak summer showers, but a lightweight linen safari shirt or overshirt is equally useful.
Get the look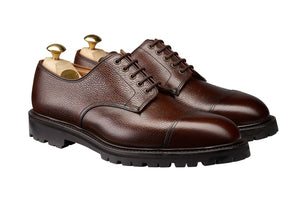 Dark Brown Scotch Grain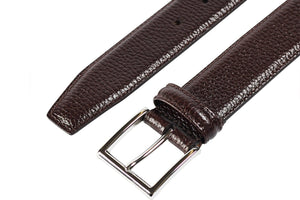 Dark Brown Country Calf
When it comes to shoes, your primary considerations should be two-fold; where are you staying, and what are you doing? I bought a pair of Sandhursts recently on a whim and I've been absolutely loving them. Based on an old pair of military derbies, they're pretty much the perfect good-weather walking shoe with those fearsome lug soles, and I've walked through Surrey, Devon and Oxfordshire in them since I picked them up two months ago. That said, if you're not hillwalking, heavy Dark Brown Scotch Grain derbies are the dictionary definition of 'overkill'.
Instead, a pair of unstructured suede loafers in Dark Brown or else in Snuff Suede will take you anywhere – from the hotel bar to the seafront. I'm a huge fan of C&J's Dark Brown Suede Harvard 2 loafers, which are unlined but set on the shapely 376 last with elegant rounded toes, but the new Unstructured Collection was made with summer holidays in mind too. In fact, any of the trio of loafers therein would be extremely comfortable to wear in warm weather. Try the Seaton in Dark Oak Suede with cream or beige linen trousers and a breezy sky blue shirt, and wear the Snuff Suede Solent tassel loafer with T-shirts and jeans.
I'm not, generally speaking, a huge fan of correspondent shoes, but the prospect of a holiday brings out what little sense of fun my inner curmudgeon fails to suppress. Plus, the Richmond 2 is an objectively handsome loafer. You might try the Tan Burnished Calf and Stone Canvas option, which would look great with some wide-leg linen trousers for a 'mid-century' kind of look, or else go for one of this season's online exclusives in either two-tone Ocean & Mid-Blue Suede or Camel & Snuff suede.
I think the Camel & Snuff edges it for me – I can see these working well with dark or light chino shorts with rolled up hems. You should wear them sock-less too, as well. It's a staycation, after all.