Let's talk about socks. Much maligned and too often ignored, I'm willing to bet that the socks in your wardrobe don't get much of a look-in. This is a huge shame, because socks, like shoes, hold the power to make or mar an outfit – and they're also an inexpensive way to freshen up your look.
Why don't we start with a few fundamentals? First up, match your socks to your trousers and not your shoes. Socks that blend into tailored trousers create the illusion of longer legs, which will help you to look both taller and leaner. Matching socks to your shoes does the opposite, and can make you look shorter than you really are. With this in mind, every man's sock draw should have five smart ribbed pairs in navy and five pairs in dark grey, just to wear with your working wardrobe. Wool for autumn, winter and spring, fine mercerised cotton for summer – of course.
Failing tonal charcoal or navy, I quite like dark bottle or olive green socks, or else classic burgundy with dark suits. These colours convey a touch of personality but they're suitably subtle. Purple can sometimes work too if you can find a suitably sober shade. A navy blue suit dressed with a pair of polished Westbournes in black calf is lifted just so with deep red socks, in the same way that dark khaki green socks look smart with brown calf loafers (Grantham 2 or Sydney get my vote) and a mid-grey sharkskin suit.
Get the look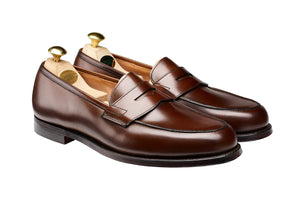 Dark Brown Burnished Calf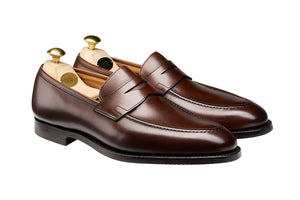 Dark Brown Burnished Calf
Conversely, brightly coloured socks are best avoided in a professional environment – if my lawyer, my estate agent or my banker turned up in shouty socks, I'd be worried. Playing with the aforementioned dark, warm colours is far more sophisticated with suiting. It's worth adding that I prefer over-the-calf socks for formalwear too, and have worn them for years. There's nothing less elegant than hairy shins peeping out between trouser hems and slipping-down socks when you cross your legs. Over-the-calf socks eradicate that problem, and they stay up of their own accord.
Of course, casual socks can be short if you prefer, and offer much more scope to play with colour and pattern. Chunky knitted thick-rib socks are great to wear with robust country shoes (I wear thick recycled cotton socks with my Sandhurst Derby's and jeans all the time), and work well in earthy colours. Try a few pairs of wooly socks with any of C&J's rugged, country-going boots (Coniston Derby Boots spring to mind as the natural choice), or with the Lanark 3 derby for a similarly swish look. Of course, knitted socks can also look smart with hoops or stripes, and I'm a fan of wearing hooped socks with tassel loafers and stonewash or off-white jeans when I'm feeling frivolous. This look has a 'collegiate' feel to it that's good fun to wear with preppy blazers and button-down shirts.
With preppy style in mind I'm going to end this story by attempting to tackle the big one: white socks. Before you slam your laptop screen shut in disgust, hear me out – because there is in-fact a precedent for wearing white socks (or off-white socks to be exact) with smart shoes. Like all rebellious wardrobe statements, students are to blame for this unusual pairing – more precisely, the students of the Ivy League, who would sport off-white socks on-campus with their chinos, sack blazers and Cordovan penny loafers in the 1950s and '60s. Traditionally, these off-white socks were knitted wool sports socks (the most famous is the American-made Wigwam 625), which students wore to signal their independence from the stuffy dress codes of their forebears.
Get the look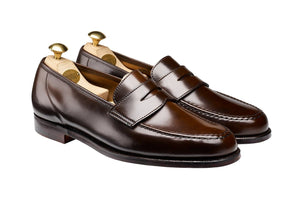 Dark Brown Cordovan
Personally, I like to wear off-white socks with unlined loafers, vintage Levis and tweed or checked sports coats, as an Anglicised take on this American 'Ivy' look. I find that cream socks help otherwise 'classic' shoes (and sports coats) to feel a little more relaxed, and I like their retro cultural reference point too. If you too would like to channel a little bit of Ivy League history, C&J's unlined Harvard Loafers in dark brown Cordovan were made with you in mind. I've owned a pair for two-years now and I more-or-less live in them.
All of this is a long way of saying that socks really shouldn't be an afterthought. While it's easy to think no-one sees them, they're an intrinsic part of your wardrobe; and whether you're going for suited subtlety or casual comfort, it pays to keep your socks in shape.