Our classic and most popular suede colourway is without doubt our Dark Brown Suede. With over 30 different styles to choose from in both suede and calf suede material variations, it's an extremely tough choice to choose from when selecting our top 3. Rest assured though, below are our favourite Dark Brown Suede summer styles that will see you shod in rich suede luxury throughout the warmer months.
Cavendish in Dark Brown Calf Suede
A style that needs no introduction to avid Crockett & Jones fans, Cavendish, our long-standing icon within the Men's Main Collection. Our famous tassel loafer is arguably one of the finest tassel loafers available today and in supple calf suede Cavendish has comfort at its core. Using only the finest European calf skins available today calf suede offers elegance and comfort due to its fine nap and strong fibre structure. The perfect tassel loafer for smart and casual wear.
Get the look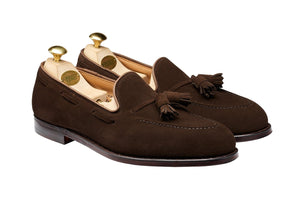 Dark Brown Calf Suede
Teign in Dark Brown Suede
Our unlined version of our popular penny loafer Sydney, Teign offers all the customer favourite aesthetics of Sydney whilst unlined for those warmer summer days. Lasted on our 341 last sporting a medium rounded toe, Teign has been proven to be an excellent choice for both formal business and casual wear along its classic leather sole. We recommend customers choose half a size down from their normal size when purchasing unlined styles.
Get the look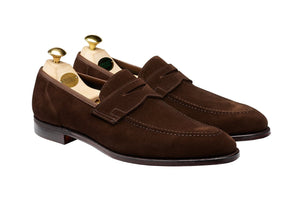 Dark Brown Suede
Boston in Dark Brown Suede
A style that has continued to rise in popularity over the years is none other than our classic penny loafer, Boston in Dark Brown Suede. Set on our 314 last, Boston oozes traditional loafer qualities, with a 'high walled' rounded toe and famed from being comfortable from the get go. Benefitting from our Dark Brown repello suede material, Boston is water repellent and is full treated with 'scotch guard' during the tanning process for added protection.
Get the look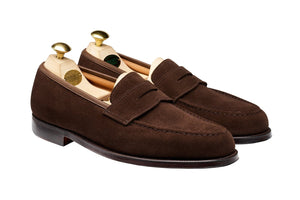 Dark Brown Suede