Our next summer colour is the perfect alternative to those wanting a change from the classic Dark Brown Suede styles. Earth Green Suede has become increasingly popular over the years with the collection growing after the well-received Chukka Boot Chiltern was first introduced.
Cornell in Earth Green Suede
Our blucher style Derby makes an appearance once again on our favourite summer colour list. Cornell's Red Rubber Unit sole compliments the Earth Green Suede tones to create a standout contrasting shoe that's ideal for those wanting to make a statement this Spring Summer. Boasting a broad rounded toe from Last 378's aesthetics along with sculpted heal clipping, Cornell is our nod to the 'Ivy League' style.
Get the look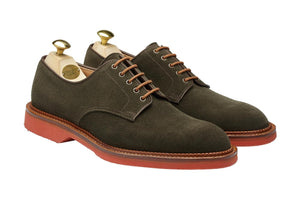 Earth Green Suede
Napoli in Earth Green Suede
Made famous by the Italians in the 1960s, Driving Shoes were typically adorned during the summer months and available in bright colours and soft suedes, thus, our Napoli in Earth Green Suede ticking all the boxes. With contrasting Dark Brown Calf interlacing and stitching, Napoli offers our Driving Shoe fans something a bit different from the classic Penny Loafer.
Get the look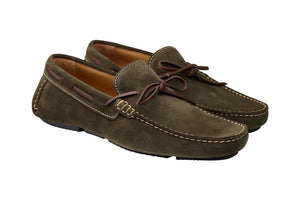 Earth Green Suede
Seaton in Earth Green Suede
Our final choice is another style from our Unstructured Spring Summer 2022 Collection, Seaton in Earth Green Suede. This unlined and unstructured Penny Loafer was an instant customer favourite when first introduced into our Men's Main Collection back in 2021, with Earth Green Suede being a welcome colour choice. Lasted on our 376 last, ideal for loafers, Seaton offers a round toe with slimmed down back part, ideal for those wishing to go sockless this summer!
Get the look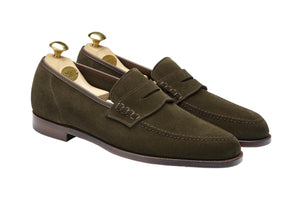 Earth Green Suede