Khaki Suede was first introduced as a colourway into the Main Collection for Spring Summer 2021, complementing our new unlined styles ready for the warmer months. The versatility of this light-coloured suede meant popularity grew and grew with customers wanting a change from the classic Dark Brown Suede. To date, the Khaki Suede collection now houses six different styles expanding further with the upcoming introduction of our matching Khaki Suede Belt.
Waterford in Khaki Suede
One of our original styles introduced in Khaki Suede, our unlined Waterford Derby is the ideal smart casual choice for summer. Lasted on one of our newest Main Collections lasts, the 379, Waterford benefits from a classic rounded toe shape with excellent fitting qualities along with sporting our SUPERFLEX leather sole.
Get the look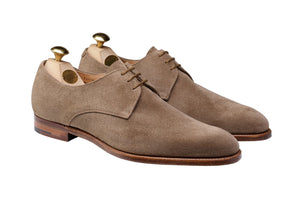 Khaki Suede
Salcombe in Khaki Suede
Another style from our Spring Summer 2021 collection, Salcombe. Boasting flexibility from its core with our new unstructured construction process, we have added lightness and increased flexibility, showing unparalleled comfort results. Alongside our SUPERFLEX leather sole, Salcombe really is the ultimate summer loafer.
Get the look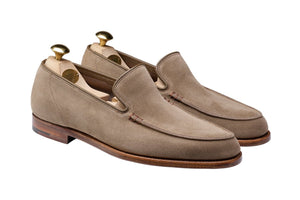 Khaki Suede
Epsom in Khaki Suede
Epsom, our low leg Chelsea Boot completes our favourite Khaki Suede styles. Unlined, ready for those warmer summer days, Epsom is another style benefitting from our SUPERFLEX sole, our most flexible sole to date. Along with Waterford, Epsom is lasted on our 379 last sporting a classical rounded toe, ideal for a smart casual Chelsea Boot style.