One of the lightest suede colour choices throughout the Crockett & Jones collection, Polo Brown Suede is firm favourite for customers looking for something a little different to brighten up their summer wardrobe.
Kempton 3 in Polo Brown Calf Suede
From our Hand Grade Collection, Kempton 3 joined the Polo Brown Suede line up back in Autumn Winter 2019 and was welcomed with open arms by fans of this rich colour offering. Currently our only Demi Boot available in our Men's Collection, Kempton is a rare find for those looking for something unique to English shoemakers. A Demi Boot just covers the ankle, but can still be seen below the trouser hem.
Cavendish in Polo Brown Calf Suede
A Crockett & Jones 'top 3' list never seems fully complete without the mention of our beloved Tassel Loafer, Cavendish. A style that compliments a range of colourways and materials, Polo Brown Calf Suede is the ideal choice for the warmer months. Known to be a style choice for weddings, Cavendish is as at home walking down the promenade on a much-needed holiday destination as it is during summer events.
Get the look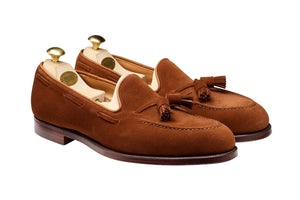 Polo Brown Calf Suede
Genoa in Polo Brown Suede
We complete our favourite Polo Brown Suede choices with another style crafted for the summer months, Genoa. Manufactured in a specialist factory in Italy, our Driving Shoes have become the go to style choice for many Crockett & Jones customers for the summer months. Using unstructured construction, Genoa is unbelievably flexible and breathable complete with a Pedrosa full rubber sole for added comfort.
Get the look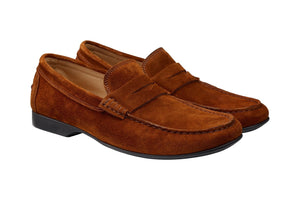 Polo Brown Suede