It is easy to overlook the accumulation of personal possessions. Every week things trickle in one bag or parcel at a time. Some people think deeply about the things they own and others move quickly and amass an arsenal of options without much consideration. In one sense that's the beauty of personal style, it allows for a daily expression of one's external or internal personality. However, there comes a time when we start to wonder why we own so much.
I'm someone who loves the idea and practice of collecting things —cast iron cookware, Japanese textiles, ephemera and of course things to wear. Over the past 15 years I have been writing about and obsessing over classic well-made things. I made a choice at one point in my life that I wanted to buy less, but buy better. I'm most interested in companies that are still crafting things in traditional ways. I wanted to do my part to support the continued existence of that craft and continue the heritage of these brands. In the noisy era of social media, it's not always easy for those attributes to carry through.
When life changed over the past year we all had time to reassess our habits and our lives. We have been physically surrounded by all the things we own and we can't help but to wonder why we have so many things. I was personally confronted my dedication to acquiring stuff mid-2020 when we moved house. I had quietly gathered an immense hoard of possessions that when collected together in moving boxes shocked me. I decided at that point that I needed to move on from some of my "favorite" things and simplify my life.
I started by separating my possessions into groups. The things I wear frequently, the items I rarely use and then all the items I must have ordered in the middle of the night on Ambien. I was surprised when it became clear that 80% of the time I wear 20% of my closet. This was re-assuring and showed me that the simple life is obtainable.
Get the look
Tan Scotch Grain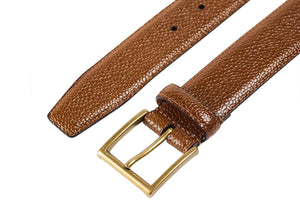 Tan Scotch Grain
Take for instance my beloved Pembroke Brogues that serve as the foundational footwear of my personal style. To me there's no shoe as versatile as the Pembroke. It works well as an everyday choice and it can also be the perfect travel shoe (hopefully we will travel again one day). You can wear them with a tailored jacket or with jeans and they look good either way. My Pembrokes are an example of the standard in which all my clothing needs to meet from now on.
Through the process of downsizing I realized what really mattered to me. There isn't a world where I would get rid of my Crockett & Jones footwear. The finely crafted items in my wardrobe are the things that will continue to deliver happiness year after year. They rise above trends and the noisy world to form a deeper connection in our lives. It's reassuring that to realize some things are always going to be there for you, no matter what is happening in the world.