Our Top 5 suede colours, for some time, have been tanned with a waterproofing agent added during the tanning process. Scotch guarding is historically a post-production process that can also be topped up by our customer with the use of our Super Invulner spray. A quick spritz and you're ready to hit the great outdoors. All Suede would still benefit from this additional layer of protection, but the waterproofing process is now far more engrained into the very structure of the leather. Please do continue your suede care as recommended on our website.
Today, Dark Brown, Earth Green, Navy, Black and Snuff suedes are all internally scotch guarded. Penetrating deep into the material as opposed to a surface spritz that can rub off or wear out over time, this new waterproofing is added during the tanning process for good reason. The agents is accepted by the very fibres that make up the suede leather as they are open and relaxed. Staying fast, this is not a surface treatment, it is now an integral part of the suede.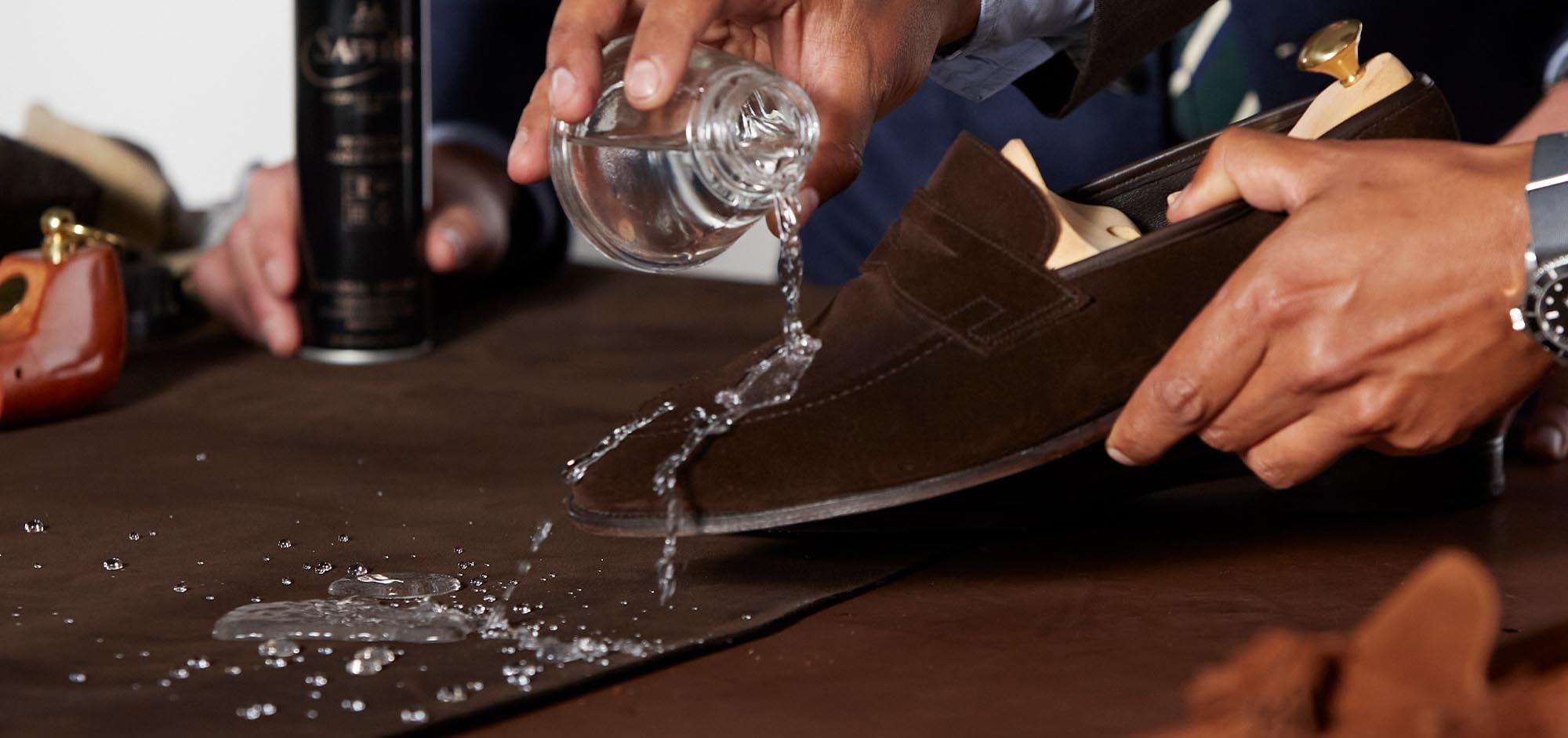 What does this actually mean to you, our customers? It means that you can throw out the notion that suede can only be enjoyed when the sun is shining. We all too often hear phrases such as "Suede is hard to care for", "Suede is delicate", but these sentiments are simply untrue. In fact, there is a very good argument that our suede sits at the top of the 'easy to care for' list. Suede shoes require almost no regular maintenance. If they do get wet, leave them to dry naturally, and then just brush them with a suede brush and shoe brush to remove any dust and smooth out the nap once again. Just make sure you keep one brush for suede only.
Every 12 – 18 months, you can really go to town and clean off those stubborn stains with a suede cleaner. A deep clean can really rejuvenate the nap, we recommend Omni'Nettoyant. Follow this with another spritz with our Super Invulner spray… If they are looking a bit sun faded, use the colour suede spray instead. But I promise, no regular polishing to be seen here!
Please don't push your favourite suede shoes & boots aside, just because it's a little cold and wet… Wear them. Enjoy them. (Dark Brown, Earth Green, Navy, Black and Snuff suedes ONLY)