Our most casual Goodyear welted style, The Loafer. They are the perfect go-to shoe for those mixing between the patio, essentials from your local supplier of fruit and veg and the now 'home office'. After all 'slip-on' is its alias! Whether you sway towards a penny, tassel or fancy something a little different such as our new butterfly loafer, Selby or whole-cut Albert, Kensington, we have selected four styles that will surely become man's best friend over the coming months.
Selby in Chestnut Burnished Calf
New for Spring/Summer 2020 is Selby in Chestnut Burnished Calf, our first butterfly loafer offered in our retail collection. A style that could be seen as slightly sportier than other loafer designs, Selby can be enjoyed with both smart and smart casual attire; perfect for home and when back in the office.
Cavendish in Polo Brown Calf Suede
A list of our favourite styles is rarely complete without the mention of our famous tassel loafer Cavendish, this time chosen in the Polo Brown Calf Suede colourway. Made on one of our most accomplished lasts, 325, Cavendish offers a medium round toe with plenty of room in the fore-part. You only need to head to our #madetobeworn campaign to see the endless style options Cavendish in Polo Brown Calf Suede can be paired with.
Camden in Ocean Suede
Our 'tassel-less loafer' Camden in Ocean Suede is our next choice. A perfect style to add some colour into your working day - we believe that Ocean Suede is just as versatile as any brown shade of shoe within our collection. This minimalist loafer is perfect for the casual mind who wishes to remain shod in quality… even whilst working from home.
Kensington Tan Woven Calf
Another SS20 style completes our 'working from home' loafers – Kensington in Tan Woven Calf. An albert slipper style with a plain front offering a clean uncompromised loafer, this woven calf option of Kensington is a leather choice that lends itself perfectly to day wear. Sporting our Chocolate 'City' rubber sole on Last 341, Kensington's characteristics boasts smart casual wear.
Not into Loafers? Here's something a little different…
Although the above loafer styles may become your perfect home attire, we of course believe Oxfords, Derbys and Boots will also shod your feet well during this lockdown period.
Westgate 2 in Dark Brown Calf Suede completes our choices for Part 1. Introduced in Autumn Winter 2019 on our new Last 379, this classic full brogue oxford with wing tip design and punched medallion on the toe is ideal for days when working from home needs some formality alongside comfort.
Featured Products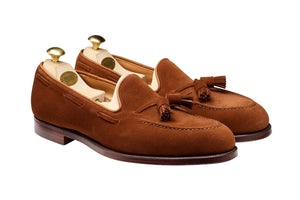 Polo Brown Calf Suede
£520
Tan Woven Calf
£535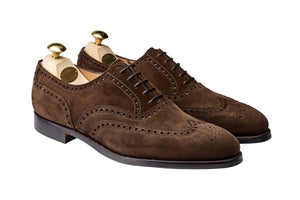 Dark Brown Calf Suede
£520