The
BLACK EDITIONS
We continue on with our most audacious collection to date, THE BLACK EDITIONS is alive once again for AW21. Not only are we continuing the original collection, three 'more' styles join TBE collection. A concept that incorporates an over-sized, 'Cleated' rubber sole, showcased using a selection of contemporary black leathers.
After Dark
THE BLACK EDITIONS 3 pulls on popularity and originality. A continuation to meet unquestionable demand.
Mischievously taking over Crockett & Jones' 1890's shoe factory in the dark, the latest rendition takes TBE from sequel to series in year 3 of our inspired and audacious collection. With two high-leg boots, the popular ALDERSHOT in Black Rough-Out Suede and Scotch Grain and the infamous ISLAY in Black Scotch Grain, both receiving TBE treatment with chrome detailing. Accompanied by WHITBY, a Teddy Boy esque, chunky soled Double Monk, this time featuring the lightweight cleated rubber sole…
A trio not to be messed with!
Japanese inspired
STYLES
Eight Styles. One Sole. One Colour – The Black Editions…
For more than a century, Crockett & Jones has exported footwear far and wide, today Japan is the houses no.1 wholesale market. Inspired by our knowledge of the market and our close working relationships with Isetan, Hankyu, Barney's, Beams & United Arrows 'The Black Editions' represents shoemaking of authentic quality, design and insight.
CONISTON
In Black Rough-Out Suede. Need we say too much about this iconic boot… A market leading cap toe Derby boot that proudly takes place in thousands of footwear collections all over the world. There is always room for another pair of Coniston, now available in a much anticipated Black colourway.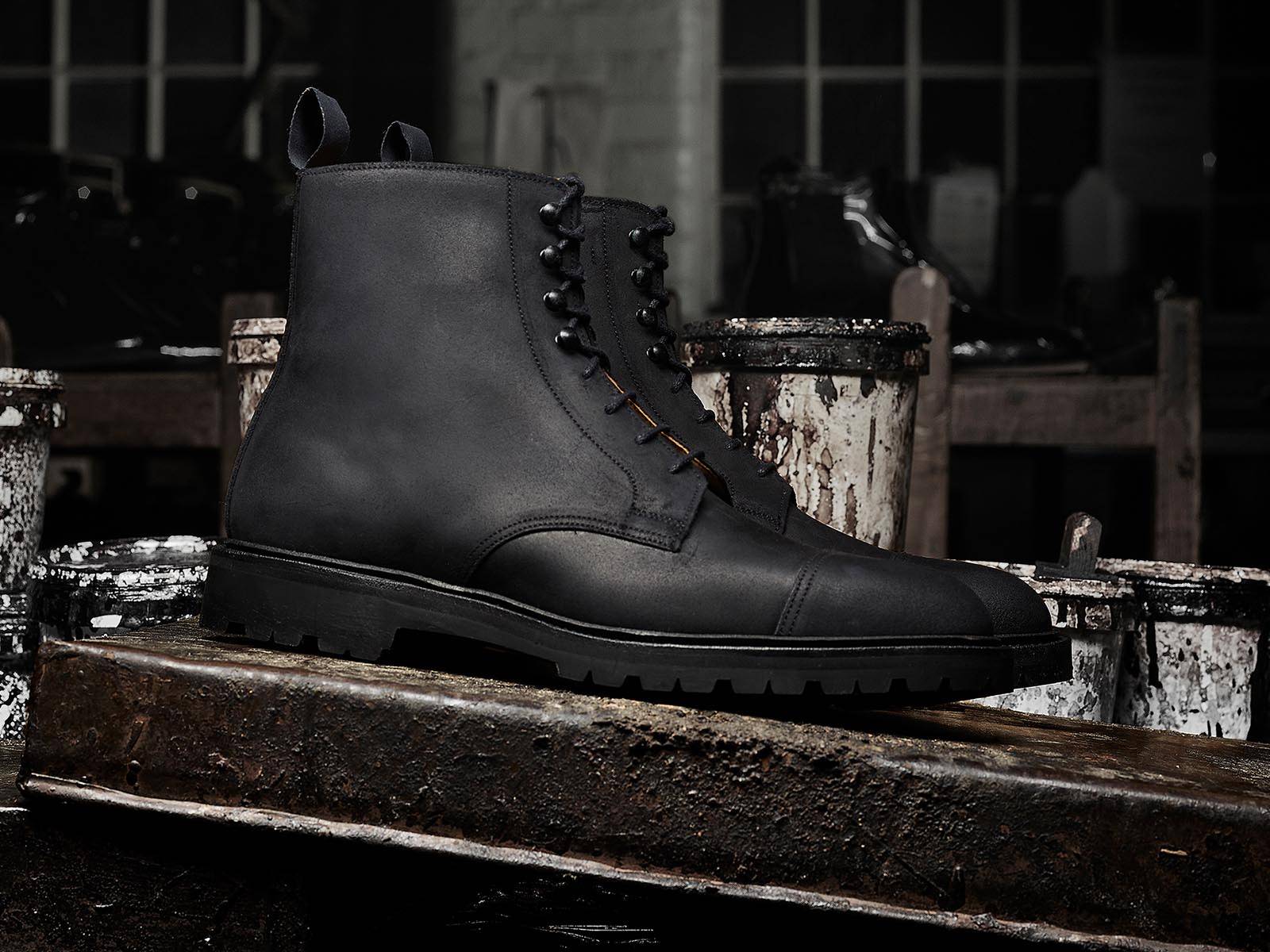 HENLEY 3
In Black Cavalry Calf. This seasons fashion forward choice from the trio. Not your obvious choice of loafer from Crockett & Jones, known for its traditional deep-rooted classic style… but we dare to be different combining our high quality classically recognised upper, with our oversized, cleated VIBRAM rubber sole. Why not a Penny Loafer as well?