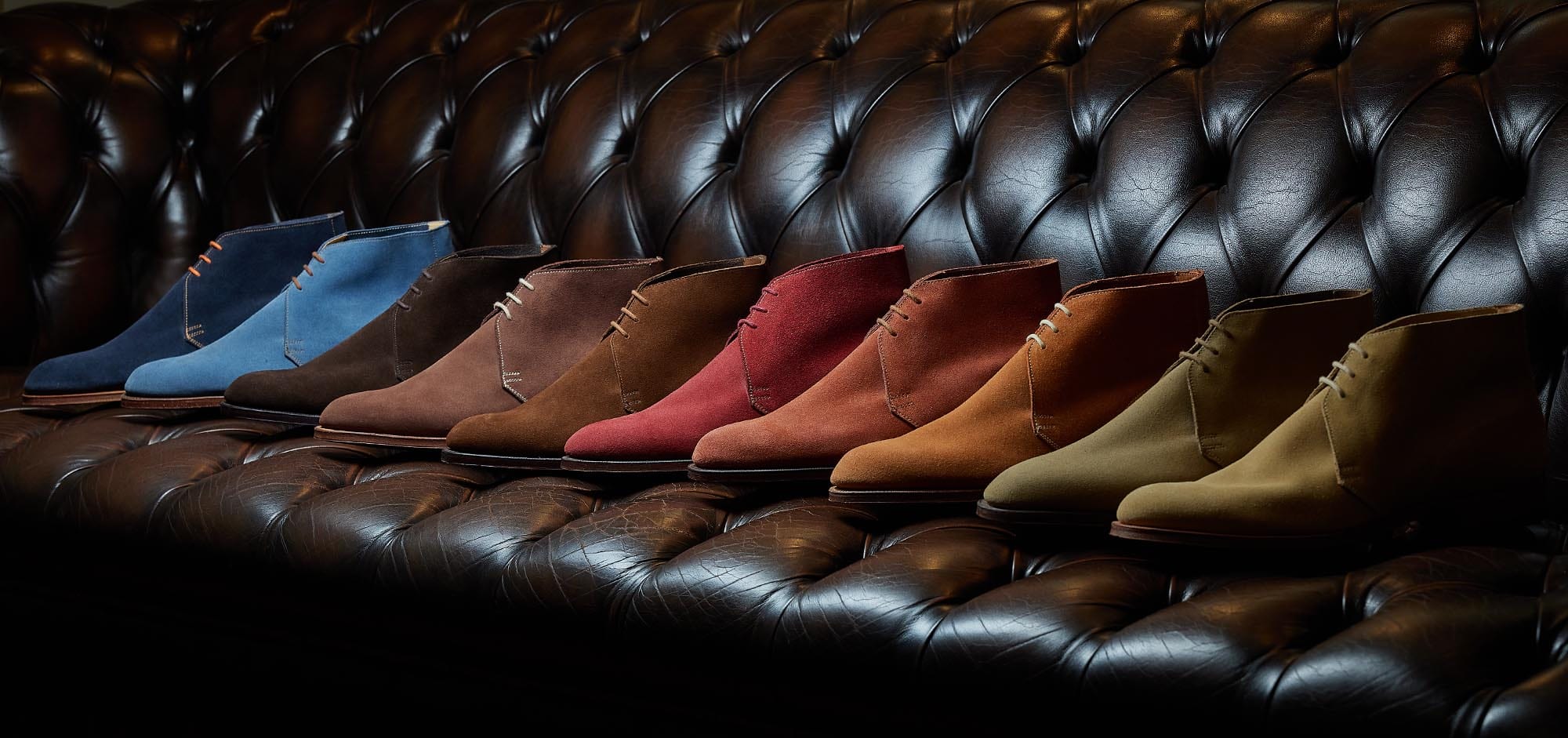 On March 24th, 1998, the first Crockett & Jones retail store in Paris opened its doors on Rue Chauveau Lagarde. A quarter of a century later, Crockett & Jones Paris will be celebrating its success with a special order event that will run until the end of 2024.
Focusing on the popularity of the Chukka, an icon so specific to French terra firma that it is quite unlike any other style in our collection. No other style in the collection is so intrinsically linked to one country!
Event Details
For those wishing to own a pair of special order Chukka boots, look no further!
We invite our Parisian customers to choose your material, sole, welt and lace colour, creating your own unique pair of Chukka boots, to suit your own personal style. Be as flamboyant as you dare and each pair will be individually hand crafted to your specification. Priced at €650.
Some 40 years after he joined Crockett & Jones, and 25 after he launched his first store in Paris, Mr Jones still personally oversees each and every special order. Once the all clear has been given, your single pair is sent into our factory where special order production takes approximately 10-12 weeks.
To further commemorate the milestone, we have also created a trio of limited edition Chukkas. These are available to buy online and in our Paris stores only, as detailed below. The perfect option for those not able to visit our special order event in Paris.
History of Crockett & Jones Paris
The Launch Era, 1998
The first Crockett & Jones retail store in Paris opened in 1998, a year after our flagship on London's Jermyn Street. On 14 rue Chauveau Lagarde, in the very heart of the chic area of 'La Madeleine', Paris welcomed the finest traditional English shoe manufacturer to its collection of high end retailers.
The success story starts with thanks to Thierry Duhesme, a passionate shoes collector of only the finest shoes. Gathering a team of experts: Dimitri Gomez – ''Maître Bottier'' (Master Shoemaker), Fabrice Rungi – a footwear connoisseur, who began as the manager of La Madeleine and now in charge of our most recent store in Pairs - Le Marais, and Laurent Duhesme – his brother, for the financial management – Thierry, successfully sowed the seeds for a long-term partnership with Jonathan Jones and the staff back in Northampton, England.
Early Development, 1999
In the early days, as business flourished, a first extension was added in 1999. Thierry Duhesme took over the printer's workshop rue Pasquier (next door), increasing the sales floor to 80m² and suggests to Dimitri Gomez to move his 'Atelier' into the store. This was the start of a relationship that still continues today, under the gaze of curious and passionate Crockett & Jones customers.
"The greatest days of this centenarian company in Paris are ahead!" A quote from Thierry Duhesme, 2002 for Le Figaro, wearing a pair of our famous Chukka boots in Tobacco Suede.
New Store, Rive Gauche, 2005
Our shop situated on Boulevard Raspail was the second Crockett & Jones shop in Paris. Opening its doors for the first time in 2005 and close to the chic quarter that is Rive Gauche, this newly refurbished shop is home to the full Parisian Collection. Crockett & Jones's Rive Gauche shop is within walking distance of the first and grande department store in Paris, Le Bon Marche.
La Madeleine - Doubled in Size, 2013
The success of Crockett & Jones Paris has since been confirmed at "La Madeleine'', when, in 2013 we took the decision to duplicate its sales floor once more. Taking over the real estate agency premises on Rue Chauveau-Lagarde, we enhanced an incredible space which proved to become a Parisian flagship that showcases our collection in all its glory.
Nowadays, the Parisian flagship welcomes Crockett & Jones clientele in 160m² of comfort and refinement, exactly as in Jermyn Street, London and 11 East 55th, New York. It is a "must see" location for the Crockett & Jones convert, as well as customers wishing to purchase their first pair of English shoes.
New Store, Le Marais, 2016
Crockett & Jones is very pleased to announce that we have completed work on our 12th retail store worldwide. A beautiful shop in 'Le Marais' region of Paris, to further complement our Parisian flagships Le Madeleine and Boulevard Raspail is NOW OPEN. 'Le Marais' gives Crockett & Jones Paris the chance to offer styles you may not find in our other Parisian shop. There is certainly something 'tres chic' about the area that evokes our more devilish side...
As each of the 20 years of retail in Paris has passed by, Crockett & Jones' status has grown from understated shoe manufacturer to a well-respected, iconic brand of high quality English shoes. Today, the brand's exposure consistently increases thanks to two other retail stores in Paris: on the "Left Bank" – 33 boulevard Raspail, and since 2016 in the heart of the historical area "Le Marais" – 16 rue du Bourg-Tibourg.
The highest standards applied to making fine shoes, in the company's original family run factory in Northampton, England, has resulted in the great success of Crockett & Jones worldwide. Thanks to these assets, the value for money that Crockett & Jones represents and to service excellence, Crockett & Jones are proud to steadily grow with our ever increasing and loyal customer base. Great relationships based on trust and a common admiration for shoe of exceptional quality.
As the head office in Northampton, managed by Jonathan Jones and Nick Jones (both 4th generation) and his children (5th generation). Crockett & Jones Paris, with the support of Crockett & Jones Northampton, started as a family business. Today, the day-to-day operations are still run by Laurent Duhesme and his wife after the sad and early loss of his brother, the shoe collector - Thierry, in 2003.
IN LOVING MEMORY OF THIERRY DUHESME
Thierry will forever be remember and respected. Even by those who had the misfortune to never work alongside him, but who have heard much about his intriguing and quirky ways.