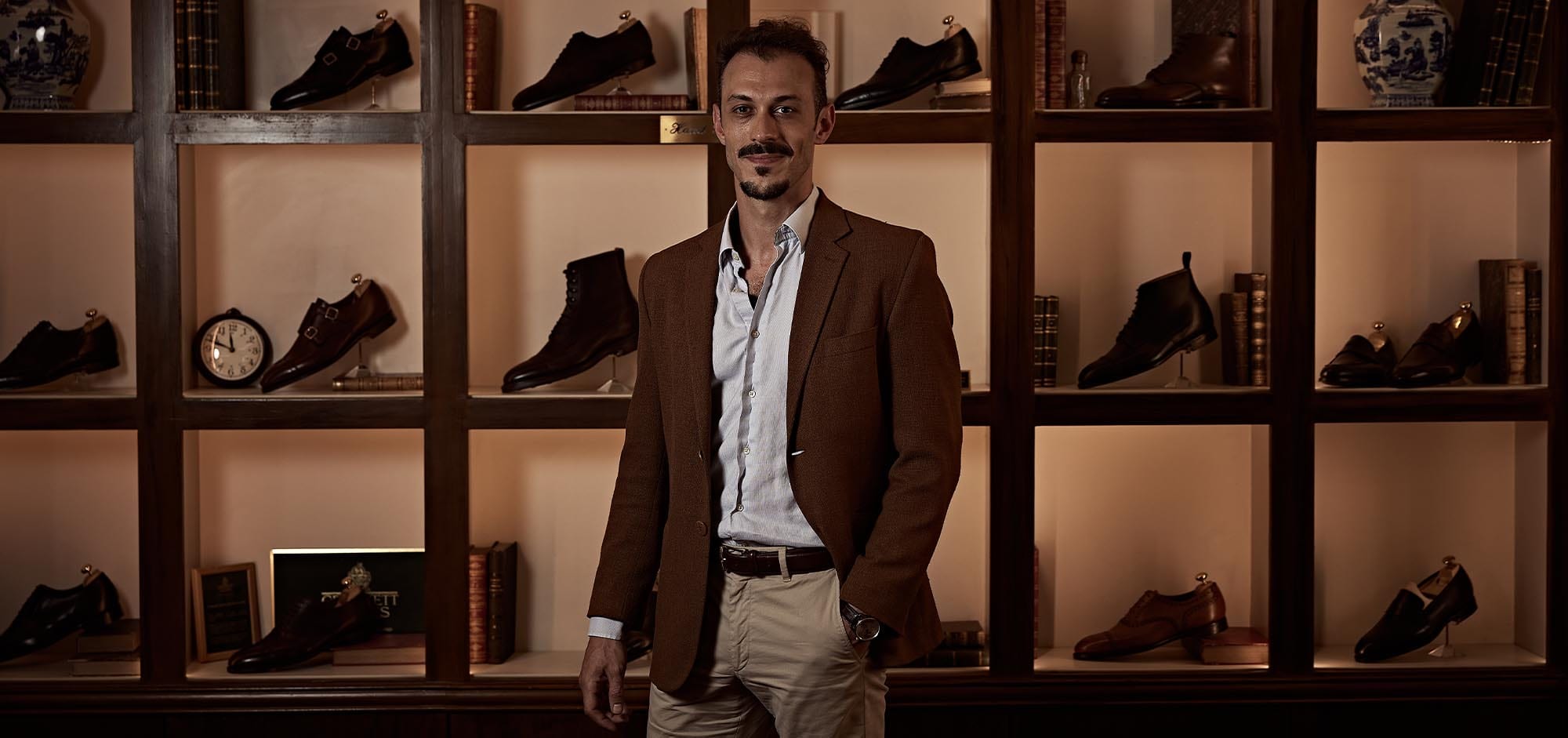 Jean-Dominique, Director of Operations for Crockett & Jones Paris.
I have been working for Crockett & Jones for 5 years, but also worked for the company when I was younger during the summer as the errand boy!
What does reaching 25 years, a quarter of a century, mean to you and your staff?
My first memory of Crockett & Jones dates back to 2007, when working during the summer at our main store, Chauveau Lagarde. Back then, the store was smaller, and the brand felt a bit 'niche', offering products to very specific customers who knew exactly what they were looking for.
Over the past 16 years, I have witnessed the brand evolved tremendously. We now see, walking through the doors of our Parisian stores, customers from all walks of life, all ages, and, most importantly, all styles. We sell shoes and boots for all occasions. Weekday and weekend.
For some of our staff who have work for C&J Paris for the full 25 years, the difference between then and now is night and day. The evolution is simply awe-inspiring. For all of us, it is an absolute privilege to be part of this company's unique and ongoing story.
Celebrating the Chukka, as an 'Icon in Paris' is a clear salute to its longevity and its success. Why do you think Chukka has become such an iconic style in France, when elsewhere Crockett & Jones often speaks about Chiltern or Tetbury?
Thierry Duhesme, who started the first Paris store with Mr. Jones, was a shoe lover and a visionary, with great flair for style and trends. For him, the Chukka was to C&J Paris what mortar is to bricks: an essential element for a solid foundation. He clearly saw in this boot something that would appeal to our French customers. Turns out he was right, for 25 years later, with over 15 variations of leathers and colour options, the Chukka lives on as one of the most sought-after boots in our collection!
Crockett & Jones is sometimes confused as a franchise of the wider, global brand. With this not being the case, it must give you a great sense of pride, entrusted by the Jones family to continue its great traditions of shoe retailing and education.
Indeed, we are far from a franchise, and we consider ourselves as part of the Crockett & Jones family, working hand-in-hand with the wider brand to come up with new solutions and ideas and, ultimately, grow together.
This adventure started at the dawn of Crockett & Jones' retail era, and we are proud to say that our longstanding partnership with a great British manufacturer is one of a kind.
The face of retail has changed so much over the past 25 years. What do you think those changes are, and what do those challenges mean for Crockett & Jones' retail stores in Paris?
The way we conduct business has definitely evolved, particularly in the past 10 years. Consumer behaviour and online shopping are the first things that come to mind when talking about challenges for brick-and-mortar retail. However, we now see that C&J's online retail is complementary to ours, allowing C&J's products to be shipped across France efficiently while, a few years ago, our customers needed to come to Paris to get C&J shoes. As for consumer behaviour, we firmly believe that a high quality of service and advice is still a high-value currency, especially when talking about luxury products. Complementary to the high quality of our products, this is our main tool to ensure our customers are satisfied, trust our expertise and come back to us for their next pair.
Leading on, what are you actively doing to remain at the forefront of Parisian retail? What is next for Crockett & Jones Paris?
We already have three stores across Paris, covering the main shopping areas of the city. However, we have recently started to focus on new services, such as in-house cobbler. Paired with Dimitri Gomes, our shoemaker, and the shoe care and patina service, we are now able to do almost anything directly from our main store to minimize our customer's waiting time while maintaining the highest quality of service possible.
As a sign off, for those customers, your all-important faithful, who just pop in to say 'Bonjour' on their morning coffee run, what would you like to say to them?
At the very core, our job is service to those customer. Without our customers, we wouldn't be here. So, thank you for the unwavering trust you continue to place in us, year after year! We look forward to seeing you soon, hopefully to visit us during our Chukka Special Order event!