Milled calf, seen here for the first time in the Crockett & Jones Men's Collection, is a high quality aniline calf leather which in this instance has an extremely soft handle, whilst importantly retaining a good substance for shoemaking.
The base material remains a full grain aniline calf, a calf base layer with aniline dyes that are added to the skins during the tanning process at the point of drumming. Aniline calf is an exclusive and thus expensive leather, which as time goes on is fast becoming a rarity.
Milled Calf gets is namesake from this drumming process, which is also referred to as 'Milling'. Milling, in vast drums, softens the leather during the tanning process, giving the leather a glove-like texture, with a slight appearance of a soft grain.
Many a time, we have referred to the material as soft grain, a more accurate description of what it is. Unlike our other grain leather, such as the well-known Scotch Grain, Milled Calf is not embossed. Its natural texture is a direct result of this milling process. A natural grain!
Get the look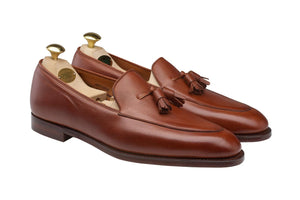 Chestnut Milled Calf
Why use Milled Calf?
It's main qualities are suppleness and softness. During our original tests where we produced a chukka, a low cut chelsea and a two eyelet derby. Our senior management were astonished by the feel and comfort this leather has to offer. It was (is), hand on heart, the most supple leather we have ever used.
What we were not prepared for were the challenges it presented us during manufacturing! But not to be petered, we worked through those early hurdles to produce a collection of very comfortable and fine loafers that maintain all of the benefits the Goodyear welted construction process has to offer.
Get the look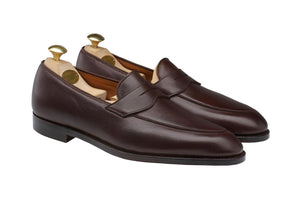 Dark Brown Milled Calf
What are the benefits of Milled Calf?
Comfort. Plain and simple. There is absolutely no break in period for uppers utilising Milled Calf. And when coupled with our new SUPERFLEX leather sole, also flexible from day one, you have a sustainable, handmade product that is a delight to wear. A serious contender for 'Most Comfortable Loafer'.
In recent times, a discerning movement towards soft, relaxed, more casual styling in menswear seems not to be slowing down. Thankfully, English made, Goodyear welted footwear happens to work perfectly with this movement. Yes, not all customer follow the latest trends, but it must be good to know that we take care of that for you! In this instance, we have focused the development of a super comfortable, super flexible loafer that if cared for well will be about the most sustainable item of clothing in your wardrobe.
Get the look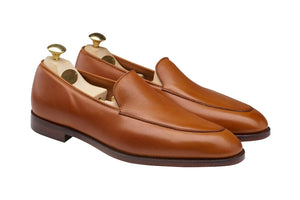 Tan Milled Calf