To put some context into this landmark period in the company's history, we rewind to 1977, an important year. A 24 year old Jonathan Jones joins Crockett & Jones with the 'simple' task of saving the company from closure. It quickly became apparent that reviving an international footwear manufacturer, with an already illustrious history dating back to 1879, was not going to be a five minute job.
Indeed, back in the early 70s Crockett & Jones was offloading assets, buying in footwear from other manufacturers and had rather lost its mojo – weeks away from closing its doors for the very last time. Jonathan, the first fresh face the management team had seen for a generation, had other ideas and set about doing the basics well. Really well! People, Product and Market Placement. For those involved today, and to be blunt, Jonathan nailed it! And there are many people still associated with Crockett & Jones who are extremely thankful.
Fast forward to the mid-90s and the manufacturing arm of the company was at full chat. Year on year growth around the world meant the company was back in the black. 'The Mill', as the late great Mr Robin Guinness would say, was firing on all cylinders! We were, and still are today, proudly producing shoes for some of the greatest retailers this world will ever see.
It was during this period that Jonathans' confidence grew, along with the strength of the Crockett & Jones brand. The loss of a crucial contract with a now famous Northampton footwear manufacturer paved the way for our Hand Grade collection and also freed up 10,000 pairs of production capacity. This enabled the company to venture into retail by opening at 69 Jermyn Street, our original store which today, sits alongside 13 other worldwide flagship retail stores.
With the growth of our retail came an influx of direct to consumer sales (and cash) that catapulted the company to heights that Jonathan had never really planned for. Having stores in London, New York and Paris gave the company gravitas that only flagship retail locations can do (unless you a have seven figure marketing budget that is). Our retail management and staff grew in number and each and every one of them became brand ambassadors accelerating what Jonathan and his wholesale management team had been doing for the last two decades, on foot! Word spread and the Crockett & Jones faithful began to grow. Thank you.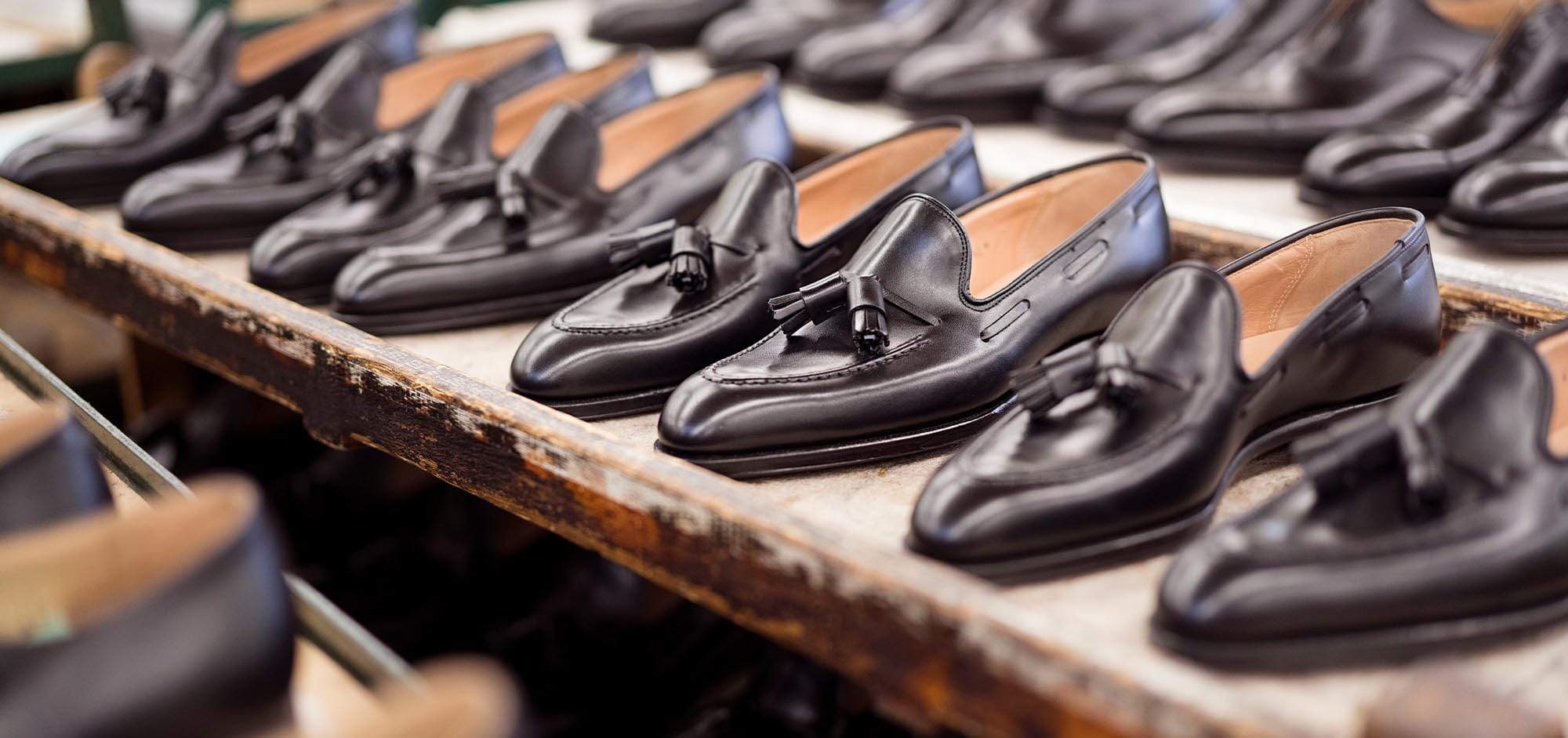 Jonathan was the master of the company's own destiny and our increased brand presence had a hugely positive impact on our wholesale business, with his two pronged attack on the high quality footwear industry, now, really starting to pay off. A dogged determination to offer quality footwear that represented value, made for a very successful recipe. It did, however, unearth Crockett & Jones' bottle neck… We became the victims of our own success, and by the time the current generation had joined the company, there was no spare production to work with for new accounts or retail growth. Jonathan was a master manufacturing conductor! Balancing sales input and production output at our Perry Street home, with poise and ease. But, what was next?
Fast forward to 2018 and Crockett & Jones' production for Brookes Brothers and Ralph Lauren had almost come to a halt, which 20 years ago, would have been a big issue. Today it provided Crockett & Jones with a similar opportunity to that which it had taken advantage of in the late 90s. Further retail expansion and the dovetailing of an eagerly awaited E-commerce retail service increasing its percentage of direct to consumer production.
E-commerce had formed boardroom discussions since 2010 but we would have never been able to fully commit to it because of our bottle neck. During this period, we also saw another jump in sales which was largely associated to the trend for English style and the round toe. Our City sole development also picked up steam and our retail stores were busier than ever. Capacity was once again absorbed.
By 2019, it was clear that E-commerce was a necessity and by this time retail customers were almost demanding that we offer the service online. Then, 2020 happened and needless to say production capacity is not an issue anymore. I think it would be unfair to say that we have been caught out by the global pandemic because let's face it, we all were. As all stores have spent the most part of 2020 closed, not having an E-commerce service has made it difficult to serve our customer demand! That, is about to change…
The future belongs to those who combine online and offline sales channels. Simply setting up an online shop will not be enough.
The new and improved crockettandjones.com is soon to welcome you through its doors as a fully transactional website… More to be revealed soon…