Stage Three
Closing
The Closing Room has over 100 members of staff, a busy department indeed. More operations can be found in this department than any other in the factory, each one of them requiring dexterity and patience.
In The Making
A short video of the Closing Room showing the fine adjustments needed to be a closing room operative. Lisa on Eyeleting, Jayne on Royal Punching and Gimping, Karen on Sides and Ned, our resident Hand Stitcher – one of the most highly skilled gentlemen in the factory today.
UPPERS ARE CLOSED
At the next stage of production, the uppers are 'closed'. Closing involves many different operations such as, punching holes for brogue styles, raw edge staining, hand-sewing, machine stitching pre-prepared sections together to form the upper and fitting eyelets. The Closing Room machinists are highly skilled requiring excellent hand and eye coordination.
FINEST HAND STITCHING
To put into context how niche a profession Hand Stitching is, Crockett & Jones relies on just one. Ned. Ned is a marvel to sit and appreciate, giving you time to truly understand the rarity value of his work.
Ned uses a 40+ year old curved awl to precisely make multiple stitch holes ensuring that he does not pierce the full substance of the material (therefore concealing the stitch). He then feeds a piano wire, to which he attaches a wax thread (which he also creates), through each hole, producing a hand tightened cross-stitch. It is painstaking work, that results in a hand stitched upper of the highest regard.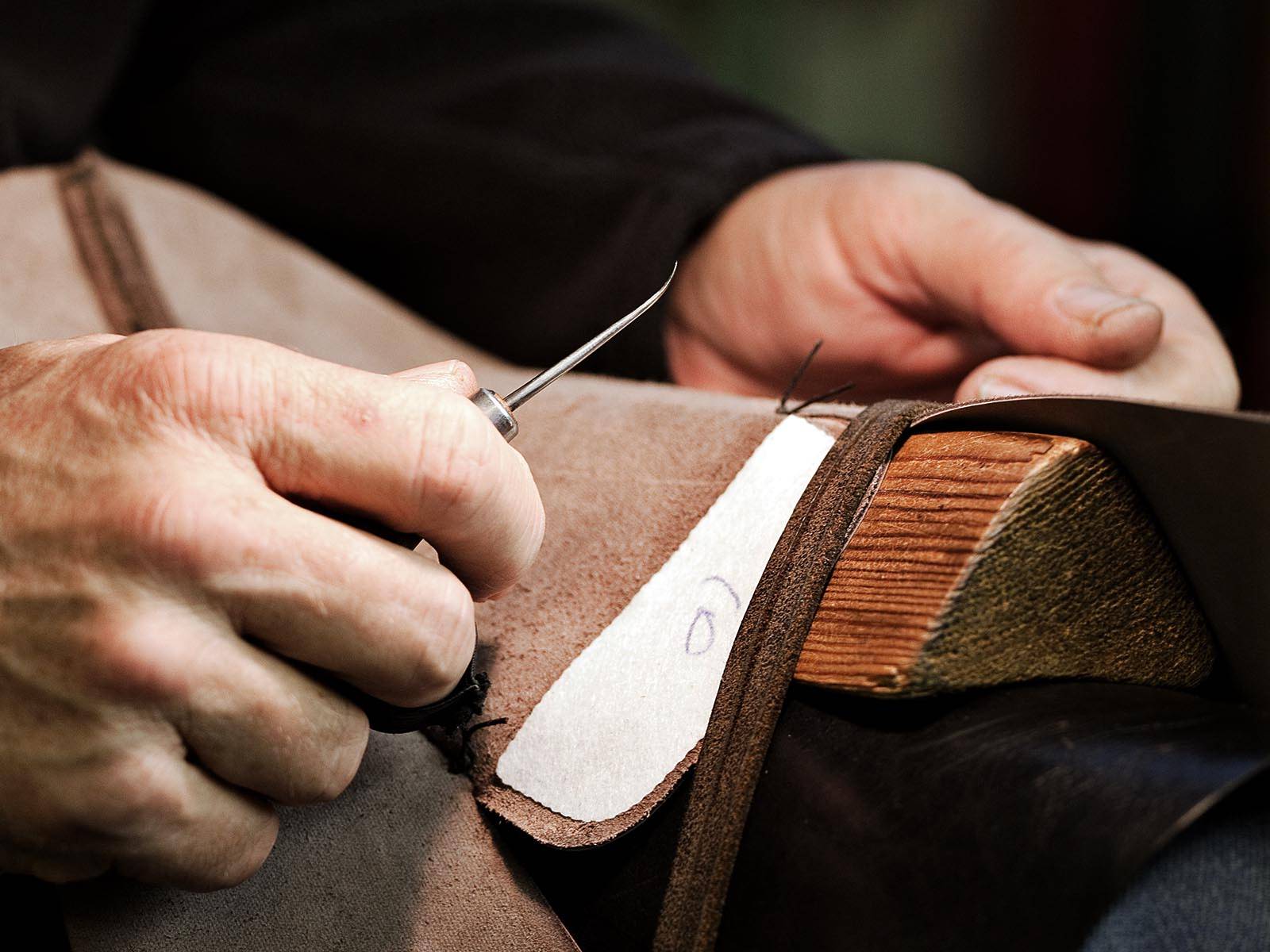 PAINSTAKING WORK
As each section is transferred from Clicking to Closing, many hands get to work. Each section of leather requires raw edges to be painstakingly stained, matching the colour to the upper leather.